THE CONFERENCE ON CHRISTIANITY AND LITERATURE is an interdisciplinary society dedicated to exploring the relationships between Christianity and literature. Organized formally in 1956, CCL is dedicated to both scholarly excellence and collegial exchange and includes hundreds of members from a variety of academic institutions and religious traditions from the United States, Canada, and more than a dozen other countries.
NEWS

CCL Brunch at MLA 2017 | Philadelphia
A CCL brunch will be held at Russet Restaurant in downtown Philadelphia (1521 Spruce St.) on Saturday, January 7, 2017 from 11 a.m. - 1:00 p.m. The Lifetime Achievement Award will be awarded posthumously to Roger Lundin and presented to his family. If you plan to attend, please send a $50 check by December 10, 2016 (made out to the Conference on Christianity and Literature) to:

Kathryn Artuso
Department of English
California Lutheran University
60 West Olsen Road
Thousand Oaks, CA 91360
CCL Session at MLA 2017 | Philadelphia
Please join the Conference on Christianity and Literature at the Modern Language Association Annual Meeting in Philadelphia, PA on Friday, January 6, 2017 for the following session, which has been selected by MLA President Anthony Appiah for inclusion in a select list of featured sessions addressing this year's convention theme "Boundary Conditions":
292. "Here I Stand": Five Hundred Years after Luther
12:00 noon–1:15 p.m., 411–412, Philadelphia Marriott
Program arranged by the Conference on Christianity and Literature
Presiding: Clare Costley King'oo, Univ. of Connecticut, Storrs
1. "Martin Luther and the History of Rhetoric," Carl Springer, Univ. of Tennessee, Chattanooga
2. "Martin Luther in Arab and Islamic Writings: The Early Modern Period," Nabil I. Matar, Univ. of Minnesota, Twin Cities
3. "Requisitioning Luther in the German Catholic Literary Inner Emigration, 1933–45," Helena Tomko, Villanova Univ.
4. "'The Dark Forces of the Germanic Peoples': Stefan Zweig's and Stefan Heym's Critique of Martin Luther," Gregor A. Thuswaldner, Gordon Coll., MA
For abstracts, write to Darryl.Tippens@acu.edu.
We will accommodate the following audiovisual request(s) for your session: Projection equipment for a computer
Keywords: Reformation, religion, rhetoric, Islam, Christianity
CCL at MLA 2015 | Vancouver
CCL at MLA 2014 | Chicago

THE CAMBRIDGE COMPANION TO LITERATURE AND RELIGION
Susan M. Felch, the current CCL Vice President, is editor of the recently published The Cambridge Companion to Literature and Religion (Cambridge, 2016). Contributors to the volume include Rowan Williams, recipient of CCL's Lifetime Achievement Award in 2011, Paul Contino, former editor of Christianity & Literature, and many other members of the organization. More information about the book can be found here.
THE ROUTLEDGE COMPANION TO LITERATURE AND RELIGION
The Routledge Companion to Literature and Religion, edited by Mark Knight (Routledge, 2016), has just been published, with contributions from the current editor of Christianity & Literature, Mark Eaton, and other current members of the organization. More information about the book can be found here.
UPCOMING CCL REGIONAL CONFERENCES
For announcements about upcoming CCL Regional Conferences, please click here.
CCL LIFETIME ACHIEVEMENT AWARD
Any member of CCL may submit the name of a person to be considered for the award. All nominations are to be made in writing and submitted to the President no later than November 1. Each nomination should be accompanied by a brief letter of recommendation along with either a copy of the nominee's cv or an equivalent biographical sketch; the latter documents may be supplied in electronic form or as links to web sites containing the information. The CCL Board of Directors will consider the nominations and conclude the selection process at its annual meeting in early January. For a list of the long line of distinguished recipients of the CCL Lifetime Achievement Award, please click here.
CCL FELLOWSHIPS AND GRANTS
For information about CCL Fellowships and Grants, please click here.
IN MEMORIAM: Margaret Hannay
Margaret Hannay, former board member, president, and vice-president of CCL, passed away on August 11, 2016 after a long battle with cancer. Margaret was a well-known scholar of early modern literature, recognized for her two seminal biographies of Mary Sidney and Mary Wroth and for her edition of the poems of Mary Sidney, written with Noel Kinnemon and Michael Brennan. She was a founding mother of the Society for the Study of Early Modern Women and a pioneer in women's studies. She was a generous and exemplary scholar and teacher, beloved as well as respected by all who knew her. An obituary is available here.
IN MEMORIAM: James E. Barcus, Jr.
Former editor of Christianity & Literature (1984-1989) and chair of the Baylor University English Department (1980-1996), Dr. James E. Barcus, Jr., passed away February 20, 2016. A gifted teacher of English for more than 50 years, Dr. Barcus taught at Houghton College in New York and Trinity College in Illinois before joining the Baylor Department of English. He retired from Baylor in January 2016 after 36 years of service. Dr. Barcus earned his B.A. in English at Houghton in 1959, his M.A. at the University of Kentucky in 1961, and his Ph.D. from the University of Pennsylvania in 1968. His scholarly interests included Romantic and Victorian poetry and prose, literary theory, and Southern American writers. Veteran members of CCL recall Dr. Barcus's distinguished work as editor of Christianity & Literature in the 1980s. He was preceded in death by his wife of 44 years, Nancy Ellen Barcus. Dr. Barcus will long be remembered as an exemplary scholar, devoted churchman, husband, and father. An obituary is available here. Additional information is available on the Baylor University website here.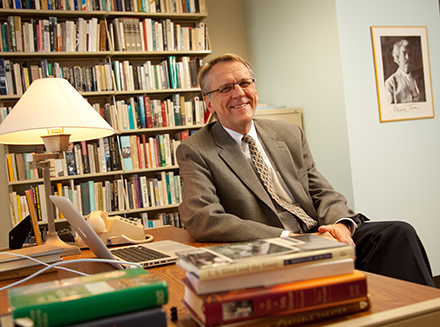 IN MEMORIAM: Roger Lundin
Former CCL President Roger W. Lundin passed away unexpectedly on November 13, 2015. A graduate of Wheaton College (1971), Lundin received an M.A. from Gordon-Conwell Theological Seminary (1974), and an M.A. and Ph.D. from the University of Connecticut (1976, 1979). At the time of his death, he was Professor of English and Arthur F. Holmes Professor of Faith and Learning at Wheaton College, where he had taught since 1978. He also held fellowships at Duke Divinity School and the University of Notre Dame. He was the author or editor of many books, including Beginning with the Word: Modern Literature and the Question of Belief (Baker, 2014); ed., Christ Across the Disciplines: Past, Present, Future (Eerdmans, 2013); Believing Again: Doubt and Faith in a Secular Age (Eerdmans, 2009); ed., Invisible Conversations: Religion in the Literature of America (Baylor, 2009); ed., There Before Us: Religion, Literature, and Culture from Emerson to Wendell Berry (Eerdmans, 2007); From Nature to Experience: The American Search for Cultural Authority (Rowman & Littlefield, 2005); and Emily Dickinson and the Art of Belief (Eerdmans, 2004). Additional information is available at the Wheaton College website here. An obituary in the Chicago Tribune can be found here.
For a tribute to Roger Lundin by Jeremy Begbie (Duke University), please click here.
IMAGO DEI
Imago Dei: Poems from Christianity & Literature brings together a collection of poems reflecting on faith and art. The editor of the volume, Jill Baumgaertner, a poet herself, was President of CCL from 1999-2003. For more information, please click here
FACEBOOK
You can now check out the latest CCL news on Facebook. Click on the Facebook icon below.