THE CONFERENCE ON CHRISTIANITY AND LITERATURE is an interdisciplinary society dedicated to exploring the relationships between Christianity and literature. Organized formally in 1956, CCL is dedicated to both scholarly excellence and collegial exchange and includes hundreds of members from a variety of academic institutions and religious traditions from the United States, Canada, and more than a dozen other countries.
NEWS
2020 CCL LIFETIME ACHIEVEMENT AWARD
The Conference on Christianity and Literature is pleased to announce that Christian Wiman and Ralph C. Wood are recipients of the CCL Lifetime Achievement Award.
Christian Wiman was raised in West Texas and earned a BA at Washington and Lee University. A former Guggenheim fellow, Wiman served as the editor of Poetry magazine from 2003 to 2013. Wiman is the author of numerous books of poetry, prose, and poetry in translation. Survival Is a Style (Farrar, Straus & Giroux, 2020) is Wiman's most recent collection. The collection Every Riven Thing (2010) won the Commonwealth Prize from the English Speaking Union, was a finalist for the Kingsley-Tufts Poetry Award, and was named one of the New Yorker's top 11 poetry books of 2010. His collection, Once in the West (2014) was a finalist for the National Book Critics Circle award. His debut collection, The Long Home (1998), won the Nicholas Roerich Poetry Prize. Stolen Air (2012) contains Wiman's translations of Osip Mandelstam's poetry. Wiman's essay collections include He Held Radical Light: The Art of Faith, the Faith of Art (2018), My Bright Abyss: Meditation of a Modern Believer (2013) and Ambition and Survival: Becoming a Poet (2007). Wiman has taught at Stanford University, Northwestern University, Lynchburg College, and Yale Divinity School. He lives in New Haven, Connecticut.
Ralph C. Wood is University Professor of Theology and Literature at Baylor University. He holds the B.A. and M.A. from East Texas State College (now Texas A&M University-Commerce) as well as the A.M. and Ph.D. from the University of Chicago. From 1971-1997 he taught at Wake Forest University in Winston-Salem, North Carolina, where he was the John Allen Easley Professor of Religion from 1990. He has also taught at Providence College in Rhode Island, at Samford University in Birmingham, and at Regent College in Vancouver. His books include: Chesterton: The Nightmare Goodness of God (2011); Preaching and Professing: Sermons by a Teacher Seeking to Profess the Gospel (2009); Literature and Theology (2008); Flannery O'Connor and the Christ-Haunted South (2004); Contending for the Faith: Essays in the Church's Engagement with Culture (2003); and The Gospel According to Tolkien: Visions of the Kingdom in Middle-earth (2003).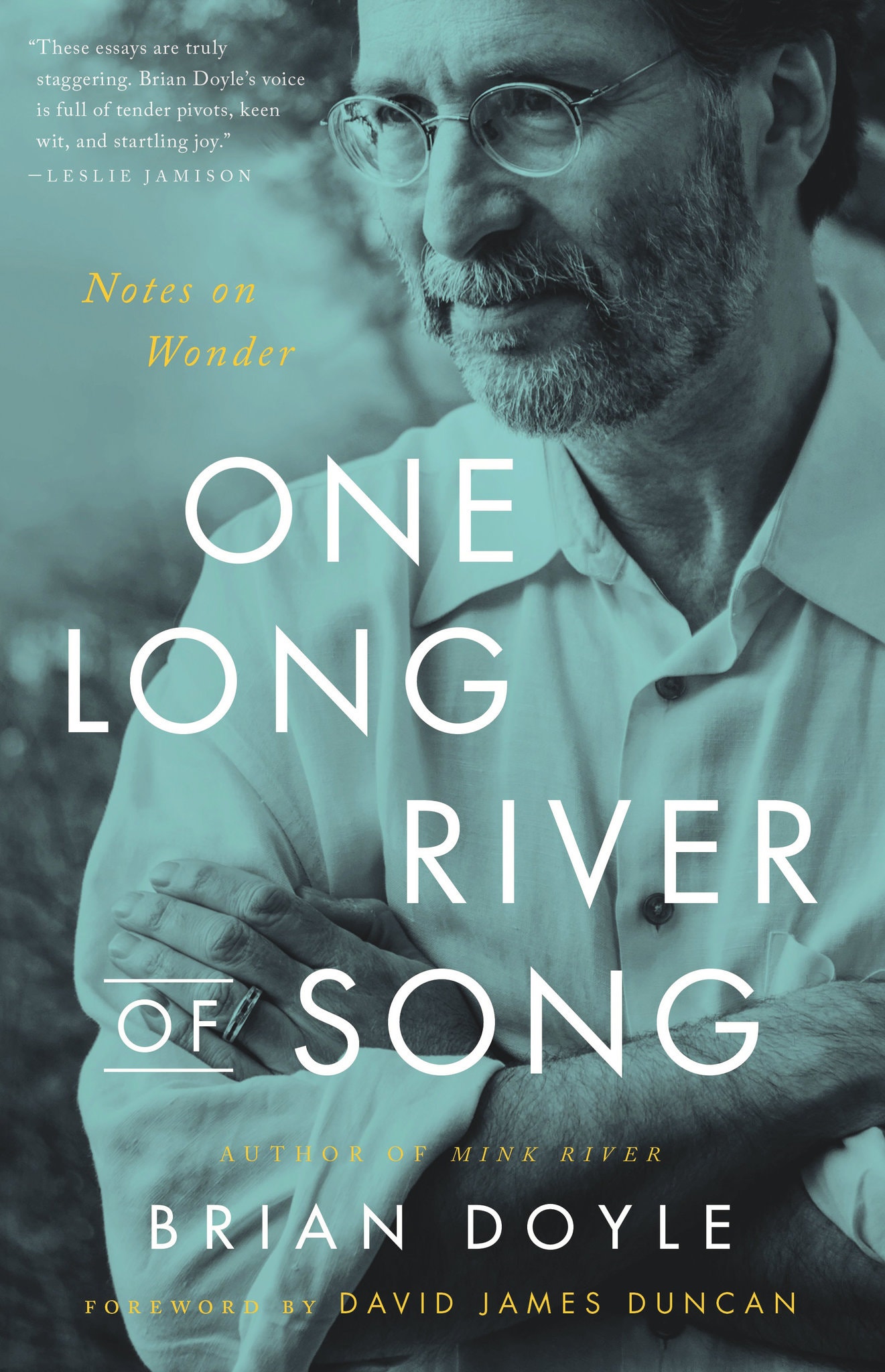 2020 BOOK OF THE YEAR AWARD
The Conference on Christianity and Literature is pleased to announce that the 2020 CCL Book of the Year Award has been awarded to the late Brian Doyle for his book One Long River of Song: Notes on Wonder (Little, Brown & Company, 2019). Brian Doyle died in 2017 at 60 of complications from a brain tumor. He left behind seven novels, six collections of poems, and 13 essay collections. "Doyle was a practicing Catholic who wrote frequently about his faith, but this book carries not a whiff of sanctity or orthodoxy," writes Margaret Renkl in her review of One Long River of Song for The New York Times. "God's acolyte is Doyle himself, missing not a single gorgeous blessing in a life so full of love it spilled over into essay after essay after essay. This book is made up almost entirely of praise songs, often for the people Doyle loved — wife, children, parents, brothers, sisters, friends — but just as often for the natural world of shrews and hummingbirds and hawks and sturgeon and fishers and great blue herons and pretty much every other creature he happened to encounter. ... Every living thing intrigued him and was worthy of his powerful capacity for study and his equally powerful capacity for celebration."
2021 LIONEL BASNEY AWARD
The Conference on Christianity and Literature is pleased to announce Joshua King as the winner of the 2021 Lionel Basney Award for his essay "Revelatory Beasts: Christina Rossetti on the Apocalypse and Creation's Worship," published in volume 70, issue 4 of Christianity and Literature. The essay recovers Rossetti's exegetical voice as a widely read and well-respected source of devotional biblical commentary. Drawing particularly from Face of the Deep: A Devotional Commentary on the Apocalypse and from her later poetry, King reveals Rossetti's vision of the entire created order as a "worshipping community" lifting its praise to God. This doxological vision of creation was deeply informed by the Anglo-Catholic liturgy of the Tractarians and as such offers what King calls an "ecotheology" that has profound implications for contemporary ecocriticism and poetics. This is an important work of scholarship for multiple reasons: first, as a work of historical scholarship, it reminds us that both Rossetti and the earlier Tractarians were attentive to the entire created order, other-than-human beings included. Second, this article broadens our understanding of Rossetti and of her influence within late Victorian religious and poetic circles, attending to her currently lesser-known work in a way that will likely enrich scholarly understanding of her better-appreciated works as well. Third, King draws Rossetti into contemporary ecopoetic conversations and notes that Rossetti's theocentric vision for the created order offers a corrective to the "ecocentrism of contemporary ecopoetics." For instance, he notes that Rossetti's vision of a worshipping creation should invite a reappraisal of the more dismissive criticism of Christianity as a purely "other-worldly" religion whose apocalypticism too often seems at odds with environmental stewardship. Attempts to align theology with ecocriticism sometimes glibly efface historical plausibility and serious theology in their attempts to make religious writing seem friendly to contemporary ecocritical movements, but King does not do this. King's liturgical perspective on Rossetti's treatment of creation in The Face of the Deep is historically, theologically, and aesthetically serious, while also performing important bridge-building between religion and ecocriticism. The essay is also beautifully argued, clear, and persuasive. Members of the committee praised King's graceful close reading of Rossetti's texts; his masterful sense of the scholarly conversation; and his winsome blend of historical, biblical, theological, and ecocritical contexts. By bringing Rossetti's late nineteenth century, theologically informed voice into conversation with contemporary ecopoetics, this essay exemplifies the scholarly ideals of the Conference on Christianity and Literature.
CCL at MLA 2023 | San Francisco
402. Global Christianities and Global Literatures, Saturday, January 7, 2023, 8:30-9:45am, Moscone West 2002
Philip Jenkins has drawn attention to the emergent "new faces of Christianity"—believers and faith communities from across the Global South that have gained prominence amid declining European and North American religious groups. The cultural, social, and theological aspects of these religious expressions throughout Latin and South America, Africa, and Asia complicate and challenge commonly held notions about the field of "Christianity and literature," widening the scope of scholarly engagement.
Chair: Mark Andrew Eaton, Azusa Pacific University
Angelica Duran, Purdue University
"Milton's Early Modern English Protestant Paradise Lost on the Modern Mexican Public Stage"
Bennett DiDente Comerford, Harvard University
"A Global Literature of Vernacular Proportions: Language, Religion, & Resistance in Modern Bengali"
Mary W. McCampbell, Lee University
"A Clash of Kingdoms: Secondary Trauma and Spiritual Formation in Purple Hibiscus and Transcendent Kingdom"
Respondent: Cynthia R. Wallace, St. Thomas More College, University of Saskatchewan
CCL at MLA 2022 | Washington, DC
Belief and Dante: Global perspectives on The Divine Comedy
2021 marks the 700th anniversary of Dante Alighieri's death and the completion of The Divine Comedy. The Conference on Christianity and Literature invites paper proposals for the 2022 MLA conference that consider the contemporary relevance of Dante's work, across geographies, traditions, genres, and languages. In particular, this panel invites papers that seek to explore, interrogate, or clarify the stakes and status of belief itself, whether in Dante or in contemporary responses to the poem.
CCL at MLA 2021 | Toronto
CCL at MLA 2020 | Seattle
CCL at MLA 2019 | Chicago
CCL at MLA 2018 | New York
CCL at MLA 2017 | Philadelphia
CCL at MLA 2016 | Austin
CCL at MLA 2015 | Vancouver
CCL at MLA 2014 | Chicago

THE SCHOLARS OF LITERATURE AND RELIGION (SOLAR) NETWORK HAS LAUNCHED!
The Conference on Christianity & Literature is pleased to invite you to take advantage of this new tool from the Rivendell Center for Theology and the Arts (RCTA) at Yale University. This online directory is designed to serve both students and scholars working at the intersection of literature and religion. Find out more by clicking here.
UPCOMING REGIONAL CONFERENCES
For announcements about upcoming CCL Regional Conferences, please click here.
LIFETIME ACHIEVEMENT AWARD
Any member of CCL may submit the name of a person to be considered for the award. All nominations are to be made in writing and submitted to the President no later than November 1. Each nomination should be accompanied by a brief letter of recommendation along with either a copy of the nominee's cv or an equivalent biographical sketch; the latter documents may be supplied in electronic form or as links to web sites containing the information. The CCL Board of Directors will consider the nominations and conclude the selection process at its annual meeting in early January. For a list of the long line of distinguished recipients of the CCL Lifetime Achievement Award, please click here.
CCL FELLOWSHIPS AND GRANTS
For information about CCL Fellowships and Grants, please click here.
IMAGO DEI
Imago Dei: Poems from Christianity & Literature brings together a collection of poems reflecting on faith and art. The editor of the volume, Jill Baumgaertner, a poet herself, was President of CCL from 1999-2003. For more information, please click here
FACEBOOK
You can now check out the latest CCL news on Facebook. Click on the Facebook icon below.