THE CONFERENCE ON CHRISTIANITY AND LITERATURE is an interdisciplinary society dedicated to exploring the relationships between Christianity and literature. Organized formally in 1956, CCL is dedicated to both scholarly excellence and collegial exchange and includes hundreds of members from a variety of academic institutions and religious traditions from the United States, Canada, and more than a dozen other countries.
NEWS
2020 CCL LIFETIME ACHIEVEMENT AWARD
The Conference on Christianity and Literature is pleased to announce that Christian Wiman and Ralph C. Wood are recipients of the CCL Lifetime Achievement Award.
Christian Wiman was raised in West Texas and earned a BA at Washington and Lee University. A former Guggenheim fellow, Wiman served as the editor of Poetry magazine from 2003 to 2013. Wiman is the author of numerous books of poetry, prose, and poetry in translation. Survival Is a Style (Farrar, Straus & Giroux, 2020) is Wiman's most recent collection. The collection Every Riven Thing (2010) won the Commonwealth Prize from the English Speaking Union, was a finalist for the Kingsley-Tufts Poetry Award, and was named one of the New Yorker's top 11 poetry books of 2010. His collection, Once in the West (2014) was a finalist for the National Book Critics Circle award. His debut collection, The Long Home (1998), won the Nicholas Roerich Poetry Prize. Stolen Air (2012) contains Wiman's translations of Osip Mandelstam's poetry. Wiman's essay collections include He Held Radical Light: The Art of Faith, the Faith of Art (2018), My Bright Abyss: Meditation of a Modern Believer (2013) and Ambition and Survival: Becoming a Poet (2007). Wiman has taught at Stanford University, Northwestern University, Lynchburg College, and Yale Divinity School. He lives in New Haven, Connecticut.
Ralph C. Wood is University Professor of Theology and Literature at Baylor University. He holds the B.A. and M.A. from East Texas State College (now Texas A&M University-Commerce) as well as the A.M. and Ph.D. from the University of Chicago. From 1971-1997 he taught at Wake Forest University in Winston-Salem, North Carolina, where he was the John Allen Easley Professor of Religion from 1990. He has also taught at Providence College in Rhode Island, at Samford University in Birmingham, and at Regent College in Vancouver. His books include: Chesterton: The Nightmare Goodness of God (2011); Preaching and Professing: Sermons by a Teacher Seeking to Profess the Gospel (2009); Literature and Theology (2008); Flannery O'Connor and the Christ-Haunted South (2004); Contending for the Faith: Essays in the Church's Engagement with Culture (2003); and The Gospel According to Tolkien: Visions of the Kingdom in Middle-earth (2003).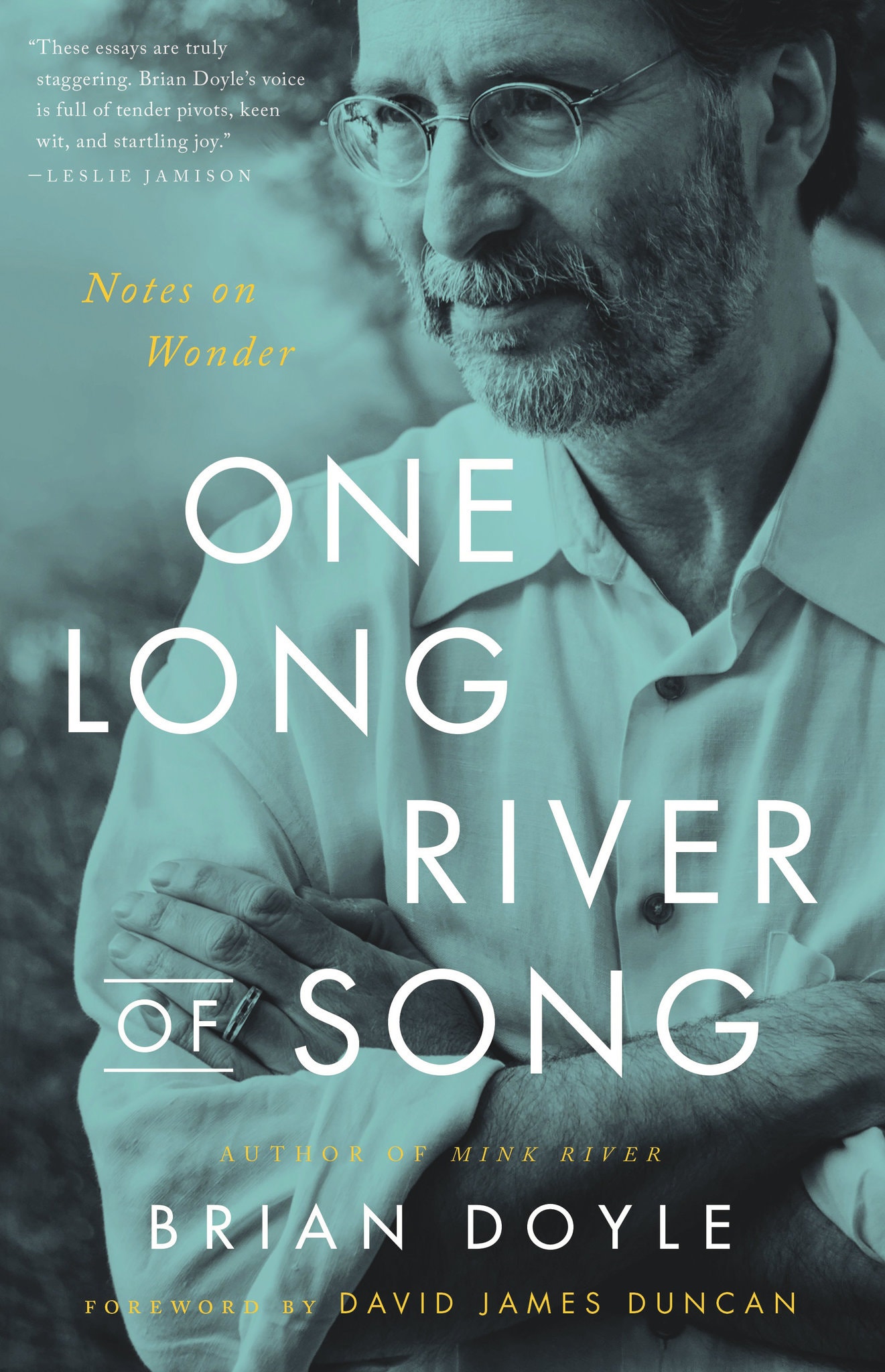 2020 BOOK OF THE YEAR AWARD
The Conference on Christianity and Literature is pleased to announce that the 2020 CCL Book of the Year Award has been awarded to the late Brian Doyle for his book One Long River of Song: Notes on Wonder (Little, Brown & Company, 2019). Brian Doyle died in 2017 at 60 of complications from a brain tumor. He left behind seven novels, six collections of poems, and 13 essay collections. "Doyle was a practicing Catholic who wrote frequently about his faith, but this book carries not a whiff of sanctity or orthodoxy," writes Margaret Renkl in her review of One Long River of Song for The New York Times. "God's acolyte is Doyle himself, missing not a single gorgeous blessing in a life so full of love it spilled over into essay after essay after essay. This book is made up almost entirely of praise songs, often for the people Doyle loved — wife, children, parents, brothers, sisters, friends — but just as often for the natural world of shrews and hummingbirds and hawks and sturgeon and fishers and great blue herons and pretty much every other creature he happened to encounter. ... Every living thing intrigued him and was worthy of his powerful capacity for study and his equally powerful capacity for celebration."
2020 LIONEL BASNEY AWARD
The Conference on Christianity and Literature is pleased to announce that Alexander Burdge has received the 2020 Lionel Basney Award for his essay, "Physics as Spiritual Exercise: T.S. Eliot and Natural Contemplation," published in Volume 69, Issue 4, of Christianity & Literature. The integrative scholarly scope of the essay is as impressive as the potential of the new paths that it opens for future scholarship. Burdge interprets Eliot's Four Quartets as "the poetic expression of a spiritual exercise aimed at cleansing the doors of perception and healing the soul while simultaneously laying bare the infinite depth and beauty of the natural world" (569). He distinguishes his approach clearly from current trends in ecocriticism while proposing something like a distinctive Christian ecocriticism, responsive to Eliot's view that properly Christian responses to modern ecological crises will require us "to see the world as the Christian Fathers saw it" - that is to say, as a luminously meaningful whole of which we are a part and "a grand theophany, simultaneously veiling and manifesting the infinite source and ground of all things" (571). Burdge provides a template for an ecocriticism that does not stress "the radical autonomy of nature, its thoroughgoing independence from human thought and feeling" but instead recognizes what medieval historian Lynn White, Jr. in 1967 deemed "the historical roots of our ecologic crisis." For Eliot as for White, "there is no question of rejecting Christianity in the name of ecological renewal; the challenge is rather to articulate a robust and coherent theology that includes an adequate account of the nonhuman" (571). Four Quartets as read here becomes not only a poem deeply rooted in Western spirituality but also an invaluable resource for imagining such a theology anew. Members of the committee praised Burdge's perceptive close readings of Eliot's poem and his ability to make persuasive connections between reading poetry and lived experience. The essay engages thoughtfully with a broad range of writers and scholars to develop the ambitious frame of its rich argument with admirable economy. It is an outstanding example of what the future of Christian literary scholarship promises to be: on the one hand grounded in ancient traditions of thought and hermeneutics, and on the other ardently engaged with the most pressing questions of its own time.
CCL for MLA 2022 | Washington, DC
Belief and Dante: Global perspectives on The Divine Comedy
2021 marks the 700th anniversary of Dante Alighieri's death and the completion of The Divine Comedy. The Conference on Christianity and Literature invites paper proposals for the 2022 MLA conference that consider the contemporary relevance of Dante's work, across geographies, traditions, genres, and languages. In particular, this panel invites papers that seek to explore, interrogate, or clarify the stakes and status of belief itself, whether in Dante or in contemporary responses to the poem.
CCL at MLA 2021 | Toronto
CCL at MLA 2020 | Seattle
CCL at MLA 2019 | Chicago
CCL at MLA 2018 | New York
CCL at MLA 2017 | Philadelphia
CCL at MLA 2016 | Austin
CCL at MLA 2015 | Vancouver
CCL at MLA 2014 | Chicago

THE SCHOLARS OF LITERATURE AND RELIGION (SOLAR) NETWORK HAS LAUNCHED!
The Conference on Christianity & Literature is pleased to invite you to take advantage of this new tool from the Rivendell Center for Theology and the Arts (RCTA) at Yale University. This online directory is designed to serve both students and scholars working at the intersection of literature and religion. Find out more by clicking here.
UPCOMING REGIONAL CONFERENCES
For announcements about upcoming CCL Regional Conferences, please click here.
LIFETIME ACHIEVEMENT AWARD
Any member of CCL may submit the name of a person to be considered for the award. All nominations are to be made in writing and submitted to the President no later than November 1. Each nomination should be accompanied by a brief letter of recommendation along with either a copy of the nominee's cv or an equivalent biographical sketch; the latter documents may be supplied in electronic form or as links to web sites containing the information. The CCL Board of Directors will consider the nominations and conclude the selection process at its annual meeting in early January. For a list of the long line of distinguished recipients of the CCL Lifetime Achievement Award, please click here.
CCL FELLOWSHIPS AND GRANTS
For information about CCL Fellowships and Grants, please click here.
IMAGO DEI
Imago Dei: Poems from Christianity & Literature brings together a collection of poems reflecting on faith and art. The editor of the volume, Jill Baumgaertner, a poet herself, was President of CCL from 1999-2003. For more information, please click here
FACEBOOK
You can now check out the latest CCL news on Facebook. Click on the Facebook icon below.